Grants were disbursed to organizations and networks across 33 U.S. states and territories, in addition to a handful of non-U.S. grants.15 Grantees were fairly evenly distributed in terms of annual operating budget size,16 with slightly fewer grantees in the smallest and largest budget ranges (see Figure A1). The median budget size was $3.4 million at the time of funding and over half of grantees are located in the Northeast region of the United States. Nearly three quarters of grant dollars were for core or general support, with remaining funds targeting a specific organizational project. Grants amounts ranged from $2,000 to $5.6 million, with $200,000 being both the median and most common grant award amount. Just over half of the grants were in the $100,000 to $499,999 range, as shown in Figure A1. 
Figure A1 

As a percentage of organizations' total expenses, Ford CFE A&C funding ranged from a median of 0.3% of expenses for the largest of grantees to a median of 40.8% for the smallest (see Figure A2). 
Figure A2: Median Ford CFE A&C Grant Amount as a Percentage of Total Operating Expenses, reported by budget groups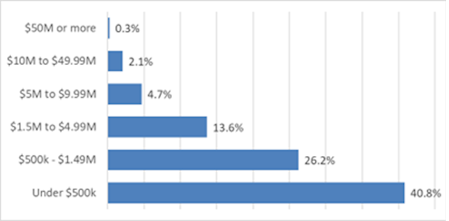 Grant terms were most frequently one year, although they ranged from two months to five years. Program funds have flowed to a broad array of disciplines including but not limited to visual arts, museums, music, literary arts, theater, dance, multidisciplinary arts, community-based practice, cultural production, cultural or economic development, and arts service and member-based organizations.