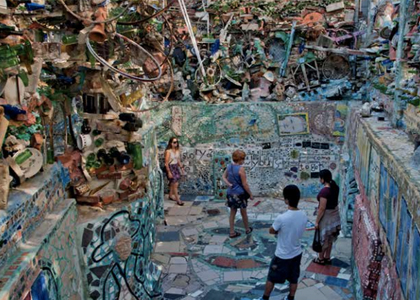 Image Source: The Cultural Alliance's 2015 Portfolio: Culture Across Communities
In a recent blog post, the Greater Philadelphia Cultural Alliance's Director of Policy & Community Engagement, Anne Marie Rhoades, discusses how she uses DataArts reports to make arts and culture matter to elected officials.
Rhoades says, "The DataArts Advocacy tool puts the Cultural Data Project data at your fingertips, and into attractive reports. As the Director of Policy & Community Engagement, I use the reports generated by DataArts constantly. I love putting them in front of an elected official or legislative staffer and watching the expression on their face change from 'vaguely interested' to 'very impressed.' The material we can share is excellent in scope, and also allows me to drill down quickly—and in full color—on the statistics that matter to these decision-makers. The information that DataArts collects and provides also tells a story that matters.
In one recent case, I was in the United States Capitol with other arts advocates, culture workers, students, and local activists. We were scheduled for a meeting with a staffer from one of Pennsylvania's senators, and those meetings are typically brief. You have a short window of time to tell your story, present your case, and make an ask—this year, it was support for increased NEA funding.
Despite having an impressive group of advocates and activists from across the state around the table, the legislative assistant hosting us could not be swayed. She was clearly uninterested in the arts, at least in our state's urban areas.
I could see the situation stalling and quickly ran a DataArts report for the Senator's hometown and original congressional office. Having that in my hand, I could clearly connect the impact of the arts with the Senator's personal and professional experience."
Read the rest of the article.