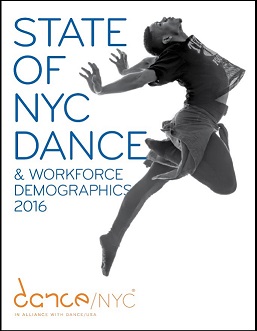 Dance/NYC's Dance & Workforce Demographics report is now live! The report, researched by DataArts, takes a close look at the activity and economics of dance organizations and highlights key economic and demographic trends across the New York City dance landscape, as well as the relationship between dance workers and the New York City population. The report incorporates DataArts' pilot demographic survey.   
"With this report, Dance/NYC expands on our knowledge of the dance community in New York: how it can continue to be both an engine for growth and a place where people from all backgrounds can find entertainment, employment, and fulfillment."
- Tom Finkelpearl, Commissioner, NYC Department of Cultural Affairs
To read the rest of the story, click here.
To read and download the full report, click here.