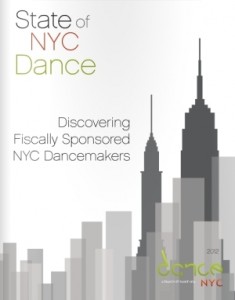 Discovering Fiscally Sponsored NYC Dancemakers, a new report from Dance/NYC that expands on the findings of last year's State of NYC Dance, reveals that the majority of NYC dancemakers are not nonprofits. Instead, these small dancemakers place their fundraising and legal infrastructure in the hands of larger 501(c)(3) public charities.
Nearly all of these dancemakers have average annual expenditures of less than $16,000, and fiscal sponsorship allows them to devote most (83%) of these smaller budgets to program and artist fees—a larger percentage even than the smallest ($25,000-$100,000) nonprofit organizations, who devote 74% on average.
"Fiscal sponsors are providing a set of services and resources that support dancemakers in entrepreneurial activities," state Ian David Moss and Carrie Blake in an analysis within the report, "allowing them to focus more on creating new work and less on infrastructure."
The report used data from 250 organizations who receive fiscal sponsorship through five institutions: Pentacle, Fractured Atlas, New York Foundation for the Arts, New York Live Arts, and The Field. The report also included data from the Cultural Data Project.
"Fiscal sponsors are advocates for their artists and may be facilitating public activity that may otherwise fail to take place," state Moss and Blake.